Guest, your shopping cart is empty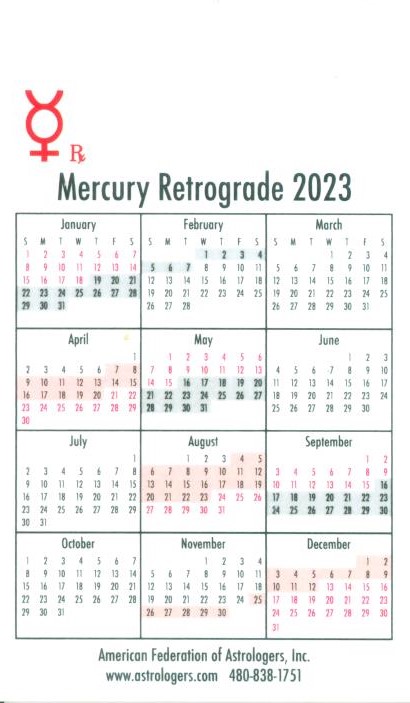 2024 Mercury Retrograde Cards
$36.00
2024 Mercury Retrograde Cards AFA's unique Mercury Retrograde cards are great gifts, give them to clients. 2024 Mercury Retrograde Cards - 100 Cards for $36.00 Plus $5.50 S/H. **SPECIAL, BUY 200 CARDS GET 100 FREE! (Plus $8.50 S/H) total = $80.50.** *NOTE: Custom Printing Deadline is September 1, 2023.** Type the message that you want printed on the top of the cards in the comment section of the order form. Your message must fit on 3 lines (25 characters per line only including spaces.) The fourth line is for phone numbers only. Web addresses must be 25 characters or less. Custom Imprints have a 48 card MINIMUM $32.00 plus Shipping and Handling. Blank tops are available while quantities last. Blank cards can be ordered in smaller quantities, 3 cards for $2.00 standard shipping rates will apply. Please type in the Comment section of your order form the quantity you are ordering, (if you do not want the sets of 100.) Prices will be adjusted when your order is processed. (Note: Shipping for 100 cards is $5.50 - $2.00 per each additional 100 cards.) International Shipping will be added per order.

Product Reviews
Did you buy this product? Please rate and review!
---
Average User Rating
You must be logged in to add a review.